Sacred Mounds
Unabridged Audiobook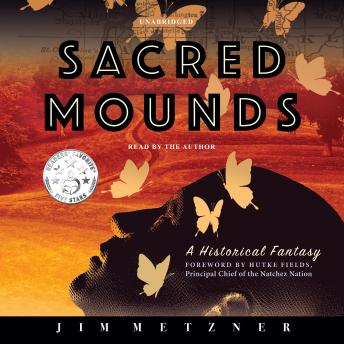 Duration:
10 hours 58 minutes
Summary:
A novel of historical fantasy from Jim Metzner, producer and host of the Pulse of the Planet radio series and podcast, with a foreword by Hutke Fields, principal chief of the Natchez Nation

Cyclonic hordes of insects, a telepathic despot, body-swapping sex-just a few of the surprises Salvador Samuels encounters when he's swept back to precolonial times, walking in the moccasins of a blind Indian-who, in turn, has been transported into Salvador's body in present day America.

Four hundred years apart, they're bound by a mission to rescue our world, aided by the mysterious presence of the mounds. Thousands of these ancient earthworks once dotted the landscape of North America. We still don't know why they were created. Sacred Mounds suggests they are as important today as when they were made over a thousand years ago.

Sacred Mounds weaves the stories of two men, each a stranger in a strange land. With the help of two remarkable women, they must find a way to save our planet and return home.
Genres: