Scat
Unabridged Audiobook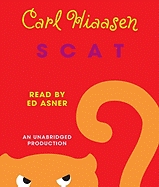 Duration:
9 hours 18 minutes
Summary:
Carl Hiaasen takes us deep in the Everglades with an eccentric eco-avenger, a ticked-off panther, and two kids on a mission to find their missing teacher. Florida—where the animals are wild and the people are wilder!
 
Bunny Starch, the most feared biology teacher ever, is missing. She disappeared after a school field trip to Black Vine Swamp. And, to be honest, the kids in her class are relieved.
 
But when the principal tries to tell the students that Mrs. Starch has been called away on a 'family emergency,' Nick and Marta just don't buy it. No, they figure the class delinquent, Smoke, has something to do with her disappearance.
 
And he does! But not in the way they think. There's a lot more going on in Black Vine Swamp than any one player in this twisted tale can see. It's all about to hit the fan, and when it does, the bad guys better scat. 
 
"Ingenious . . . Scat won't disappoint Hiaasenphiles of any age." —The New York Times
 
"Woohoo! It's time for another trip to Florida—screwy, gorgeous Florida, with its swamps and scammers and strange creatures (two- and four-legged). Our guide, of course, is Carl Hiaasen." —DenverPost.com
Genres:
1 of 1 people found this review helpful.