Scientology: A New Slant on Life
Unabridged Audiobook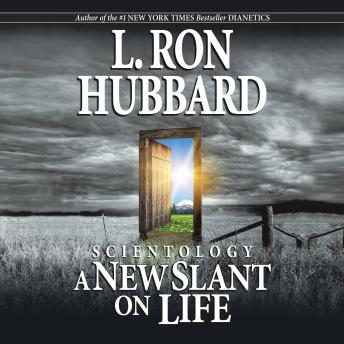 Duration:
3 hours 58 minutes
Summary:
From the author of the #1 New York Times bestseller Dianetics, with over 22 million copies sold

"The truth of the matter is that all the happiness you will ever find lies in you."
-L. Ron Hubbard

In this book you'll find the answers to put you in charge of your life. Based on L. Ron Hubbard's discoveries culled from decades of research, it's filled with practical tools that can be applied to improve every area of your life.

The articles in this book contain Scientology basics for all parts of existence, answers to questions Man has sought through the ages; answers you hoped could be found somewhere, answers that work. Articles include:


Is It Possible to Be Happy?
Personal Integrity
Man's Search for His Soul
Marriage
What is Greatness?
Honesty and Ethics


"In Scientology: A New Slant on Life I found information that is helping me in a concrete way in the day-to-day activities of life. The understanding of these simple datums, which can seem trivial, was all I needed! Thanks to this knowledge, I solved many problems concerning relationships with other people, allowing me to fully understand that communication is a fundamental element that coexists between two or more individuals." (V.C.)

"What are your goals? Where are you going? Why are you here? What are you? Scientology has answers to these questions, good answers that are true, answers that work for you. For the subject matter of Scientology is you." -L. Ron Hubbard

Open the doors to a new beginning where you can play the game of life with confidence and success.

With over two hundred million copies of his works in circulation and dozens of international bestsellers, L. Ron Hubbard has inspired a movement spanning every continent on earth. All told, those works comprise some 5,000 writings and 3,000 recorded lectures and, as such, stand as the single most embracive statement on the human mind and spirit. His breakthroughs have helped millions lead more successful lives and achieve true happiness.
Genres: