Scrapbooking: Your Step-By-Step Guide To Starting to Make Money With a Scrapbook Business
Unabridged Audiobook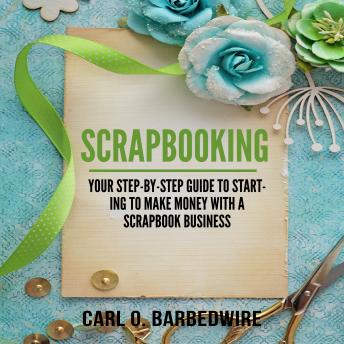 Duration:
0 hours 25 minutes
Summary:
Do you want to make some extra money with your own business?
Have you thought that scrapbooking could be the answer for you?
Do you need step-by-step assistance to get your idea moving?
Making extra money is always welcome. Having your own business which provides you with a steady income is even better and many people make the decision to start up on their own. Now scrapbooking is the latest craze to become popular and has emerged into a billion dollar enterprise that is making real money for many people.
In this audiobook, Scrapbooking: Your Step-By-Step Guide To Starting to Make Money With a Scrapbook Business, you can learn much about this new idea with information on:
- How to help people preserve their memories
- Getting clients through home parties or by giving classes
- Building scrapbooks that people will love
- Using the internet, e-bay and other mediums
- Making it into a business
- And much more...
Far removed from the hobby it once was, Scrapbooking is now a bona fide industry that you can do from home and requires just a minimum of investment to get going.
What are you waiting for? Your hobby could well become your profitable business overnight!
Genres: