The Sea King's Lady: A Seven Kingdoms Tale 2
Unabridged Audiobook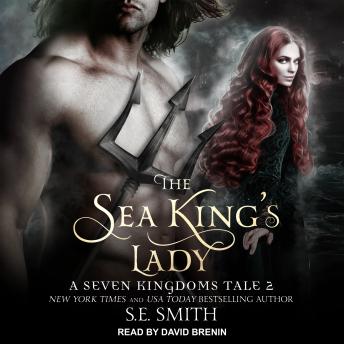 Duration:
6 hours 41 minutes
Summary:
Jenny Ackerly is devastated when her best friend disappears without a trace, and she vows to continue looking for Carly until she can bring her friend home once and for all. During her latest search, her determination turns to horror when she sees a young boy running from an empty beach into the freezing sea. When the boy doesn't resurface, Jenny's protective instincts ignite and she rushes to save the child from certain death, swimming farther and deeper than she ever would have on her own, until she is caught in a powerful undertow. When Jenny resurfaces, she is in a magical, underwater world.

Orion is the powerful ruler of the Isle of the Sea Serpent and protector of the oceans, but time is running out for him. For hundreds of years, the Eyes of the Sea Serpent have been in his family's possession, giving them power over the oceans, and now they have been stolen! Meanwhile, his oldest son's bargain with the Sea Witch threatens to seal the fate of the merpeople-and possibly that of the Seven Kingdoms. The situation seems hopeless-until a fiery female from another world appears.

Can an unlikely alliance between Jenny and Orion save not only the life of a young boy, but the future of an entire kingdom? It will take their combined wits and strengths to survive the evil lurking in the depths of the ocean.

Contains mature themes.
Genres: