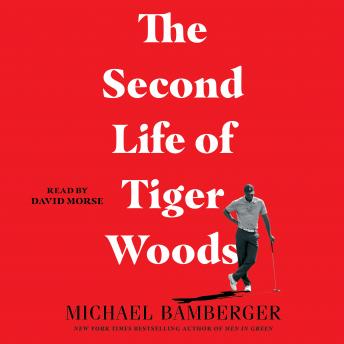 The Second Life of Tiger Woods
Unabridged Audiobook
Publisher:
Simon & Schuster Audio
Date:
March 2020
Duration:
10 hours 0 minutes
Summary:
From Michael Bamberger, author most recently of the New York Times bestseller Men in Green, the intimate and extraordinary Tiger Woods comeback story, in which the iconic golfer—his game, body, and life in shambles—makes not only a triumphant return to the winner's circle (his 2019 Masters title), but discovers along the way more widespread love and admiration than he had ever known before.

Tiger Woods's long descent into a personal and professional hell reached bottom in the early hours of Memorial Day in 2017. Woods's DUI arrest that night came just weeks after he told close friends he might never play tournament golf again and on the heels of a risky, desperate fusion back surgery. His mug shot and his alarming arrest video were painful to look at and, for Woods, a deep humiliation. There he was, this most disciplined of men, lost and out of control, for all the world to see. That episode could have marked the beginning of his end. It proved to be the opposite.

After going into rehab, pleading guilty to reckless driving, submitting to a series of probation meetings and drug tests, and performing hours of community service, Woods returned to competition. The player who once dominated golf at an unprecedented level had sunk to 1,119th place in the world golf rankings. But before 2018 was over, he led the British Open late in its last round before losing to his playing partner, finished second in the PGA Championship, and won the Tour Championship at the historic East Lake Golf Club in Atlanta. As he marched to victory there, the pandemonium surrounding him bordered on chaos. But that was just a warm-up act to an event that enchanted the world: his 2019 victory at golf's most celebrated event, the Masters, on a Sunday afternoon in April that was a high-wire act for all involved, especially for the forty-three-year-old single father with a bad back who won his fifth green jacket. The photos of the winner's hugs with his young son and daughter and mother were iconic images by nightfall.

Michael Bamberger has covered Tiger Woods since the golfer was a teenager and an amateur, and in The Second Life of Tiger Woods he draws upon his deep network of sources inside locker rooms, caddie yards, clubhouses, fitness trailers, and back offices to tell the true and inspiring story of the legend's return. Packed with new information and graced by insight, Bamberger reveals how this iconic athlete clawed his way back to the top. The Second Life of Tiger Woods is the saga of an exceptional man, but it's also a celebration of second chances. Being rich and famous had nothing to do with Woods's return. Instead, readers will see the application of his intelligence, pride, dedication—and his enormous capacity for work—to the problems at hand. Bamberger's bracingly honest book is about what Tiger Woods did, and about what any of us can do, when we face our demons head-on.
Genres: