Second Wind: A Sunfish Sailor, an Island, and the Voyage That Brought a Family Together
Unabridged Audiobook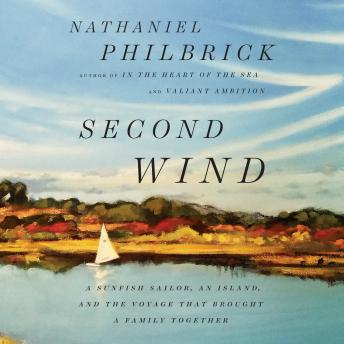 Duration:
4 hours 25 minutes
Summary:
A charming early memoir of midlife by the bestselling author of Mayflower and In the Heart of the Sea, recounting his attempt to recapture a national sailing championship he'd won at twenty-two.

'There had been something elemental and all consuming about a Sunfish. Nothing could compare to the exhilaration of a close race in a real blow--the wind howling and spray flying as my Sunfish and I punched through the waves to the finish.'

In the spring of 1992 (eight years before the publication of In the Heart of the Sea), Nat Philbrick was in his late thirties, living with his family on Nantucket, feeling stranded and longing for the thrill of victory of a national sailing championship he had won fifteen years earlier. Was it a midlife crisis? It was certainly a watershed for the journalist-turned-stay-at-home dad, who impulsively decided to throw his hat into the ring, or water, again. With the bemused approval of his wife and children, Philbrick used the off-season on the island as his solitary training ground, sailing his tiny Sunfish to its remotest corners, experiencing the haunting beauty of its tidal creeks, inlets, and wave battered sand bars. On ponds, bays, rivers, and finally at the championship on a lake in the heartland of America, he sailed through storms and memories, racing for the prize, but finding something unexpected about himself instead.

A warm, funny, and modest book about the journey home for one sailor and his family.
Genres: