A Secret Gift: How One Man's Kindness--and a Trove of Letters--Revealed the Hidden History of the Great Depression
Unabridged Audiobook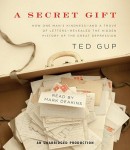 Duration:
10 hours 0 minutes
Summary:
Shortly before Christmas 1933 in Depression-scarred Canton, Ohio, a small newspaper ad offered cash gifts to seventy-five families in distress. Readers were asked to send letters describing their hardships to a benefactor calling himself Mr. B. Virdot. The author's grandfather, Sam Stone, was inspired to place this ad and help his fellow Cantonians as they prepared for the cruelest Christmas most of them would ever endure.

Moved by the stories of suffering and hope in the letters, which he discovered in a suitcase seventy-five years later, Ted Gup first set out to unveil the lives behind them, searching for records and relatives to flesh out the family sagas hinted at in those letters. From these sources, Gup has re-created the impact that B. Virdot's gift had on each family.

But as he uncovered the suffering and triumphs of dozens of strangers, Gup also learned that Sam Stone was far more complex than the lovable-retiree persona he'd always shown his grandson. Gup solves a singular family mystery even as he pulls away the veil of eight decades that separate us from the hardships that united America during the Depression.
Genres: