The Secret Man: The Story of Watergate's Deep Throat
Unabridged Audiobook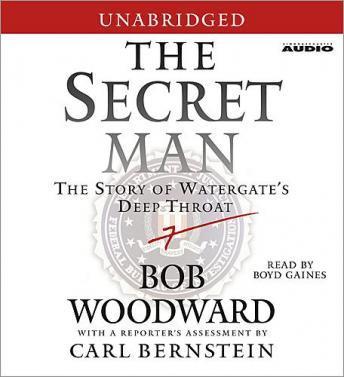 Duration:
6 hours 0 minutes
Summary:
In Washington, D.C., where little stays secret for long, the identity of Deep Throat -- the mysterious source who helped Bob Woodward and Carl Bernstein break open the Watergate scandal in 1972 -- remained hidden for 33 years. Now, Woodward tells the story of his long, complex relationship with W. Mark Felt, the enigmatic former No. 2 man in the Federal Bureau of Investigation who helped end the presidency of Richard Nixon.
The Secret Man chronicles the story in intimate detail, from Woodward's first, chance encounter with Felt in the Nixon White House, to their covert, middle-of-the-night meetings in an underground parking garage, to the aftermath of Watergate and decades beyond, until Felt finally stepped forward at age 91 to unmask himself as Deep Throat.
The Secret Man is an intense 33-year journey, providing a one-of-a-kind study of trust, deception, pressures, alliances, doubts and a lifetime of secrets. Woodward has spent more than three decades asking himself why Mark Felt became Deep Throat. Now the world can see what happened and why, bringing to a close one of the last chapters of Watergate.
Genres:
1 of 1 people found this review helpful.