The Secrets of Successful House Flipping Do You Have an Eye for Spotting Real Estate Investing Opportunities? Discover How to Make Big Bucks Flipping Houses Without a Large Initial Investment
Unabridged Audiobook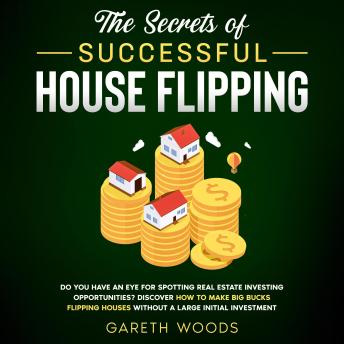 Duration:
4 hours 19 minutes
Summary:
How to buy and resell residential homes even if you don't know anything about house flipping.
Maybe you've watched some TV shows where participants buy old fixer-uppers, rebuild them, and then sell them again for much bigger numbers. Or maybe you possess an abandoned house that is just costing you a lot of money and you don't know what do to with it.
Here's a preview of what you will discover:
● How the market of real estate works and how to start generating money by flipping houses.
● The ONE ESSENTIAL RULE you need to follow when it comes to buying houses to flip.
● The methods to minimize cost and maximize profit in your real estate investment, even if you don't know where to start.
● How to use the power of marketing to attract your dream house buyer with no efforts.
● Why it pays to see the potential in empty or neglected houses.
● The common mistakes that even experts make and how to watch out as a beginner.
● A step-by-step guide with the most important actions that you need to take during the whole process of house-flipping.
● Little-known tips that professional house-flippers and expert brokers don't want you to know when evaluating a house.
● How to invest in real estate with SURE-FIRE strategies even with little or no capital (without having to be in debt for the rest of your life).
And much, much more…
Even if you don't own any house or big savings in your bank account, this guide will show you that it is possible to remodel and resell houses to gain an amazing profit, earn a great living out of the real estate business, and increase your income streams to the maximum.
If you want to unlock access to this powerful information and discover real estate secrets, then you should start this book today!
Genres: