Secrets of the Monarch: What the Dead Can Teach Us about Living a Better Life
Unabridged Audiobook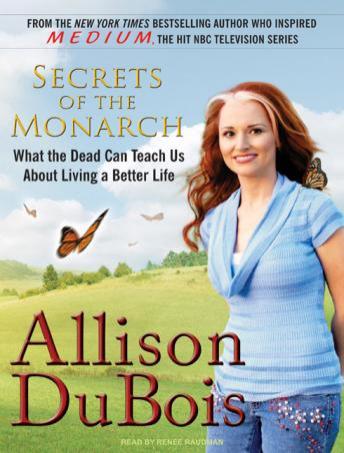 Duration:
5 hours 30 minutes
Summary:
In her newest book, Allison DuBois explains that the lives of people aren't much different than those of monarch butterflies-that we wouldn't be the people we are, make the choices we do, and, in essence, live the lives we lead without the friends and family members that came before us and have passed over to the other side.

If you want to understand life, you must understand death. In Secrets of the Monarch, DuBois shows how communicating with the dead has taught her important lessons about life and how listeners can apply those principles to their own lives.

Although we are all products of our predecessors, DuBois stresses that every person's life is part of a bigger story, stretching past family and friends to neighbors, community members, and society as a whole. By making the most of your life now, DuBois says, you can positively affect that story. It is your legacy to pass the fire in your eyes and heart to your children, your siblings' children, and your friends' children.

After all, if you already know that the story will end, why not make the content a true masterpiece?
Genres: