Secrets to Planning the Perfect Speech for Motivational Speakers: How to Plan to Give the Best Speech of Your Life!
A free trial credit cannot be used on this title.
Unabridged Audiobook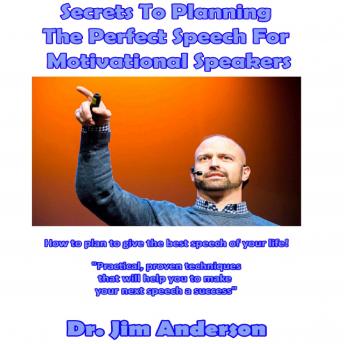 Duration:
0 hours 50 minutes
Summary:
Those of us whose calling in life it is to help others to achieve more have a great deal of work to do. We need to craft a message that we can share with people that will cause them to wake up, realize that they need to change their lives, understand what they have to do, and then be motivated enough to actually go out there and do it. Once we have our message, we then need to find ways to share it with others. One of the most effective ways to go about doing this is for us to give speeches. However, just giving a speech is not enough. Our speeches have to be powerful speeches that connect with our audiences and change their lives. What this means for us is that we need to learn how to give a great speech every time.


What You'll Find Inside:


"ONCE UPON A TIME..." - THE ROLE OF STORYTELLING IN BUSINESS COMMUNICATION
HOW TO MAKE A TECHNICAL PRESENTATION RIVETING
PERSUADE AN AUDIENCE USING 3 SECRETS USED BY PRESENTERS
KNOW YOUR AUDIENCE: WHAT YOU DON'T KNOW MAY HURT YOU


Just think of all of the great speakers who have gone before you Dr. Martin Luther King, John F. Kennedy, Steve Jobs, the list goes on and on. Now you've been give your chance to change the world!


I can well image what you are feeling right now - fear, doubt, uncertainty. Don't worry about it. I've got some good news for you - all of those great speakers felt the very same thing. However, they were able to muster up the courage to go out there and give the best speech that they possibly could. They did change the world and you just might end up doing the same thing.


However, before you go doing that, we've got to make sure that you've got a well-planned speech to work with. Planning a speech is the first step in creating and delivering a powerful and effective speech. In order to plan a speech you need to take the time before you start to write out your speech and think about who you'll be speaking to.


When planning a speech you need to make sure that you understand the purpose of your speech. Why are you going to go to all of the effort to create and deliver this speech? After you know that, take the time to think about your audience: what do they want from your speech?


You're going to have to choose what type of speech you want to give. You can choose to deliver an informative speech, a demonstrative speech, an inspirational speech, or a humorous speech. More often than not the speech that you end up giving will draw from all four types of speeches.


The good news is that I know that you're going to give a great speech and it's all going to start with the planning. Take the time to read this book, learn what you need to do in order to plan a great speech and then go out there and knock 'em dead!
Genres: