Seduction: A Club Destiny Novel, Book 3
Unabridged Audiobook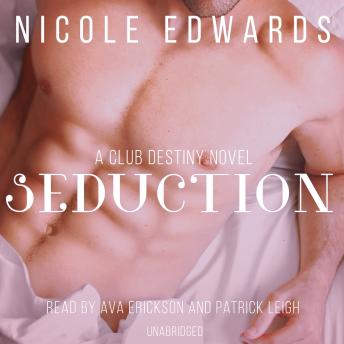 Duration:
8 hours 47 minutes
Summary:
As the Club Destiny series heats up, New York Times bestselling author Nicole Edwards delivers a steamy,erotic tale of lust and seduction.
Ashleigh Thomas might have made the biggest mistake of herlife. Uprooting life as she knew it, moving back to Dallas to be closer to herfamily, she finds herself much closer to the one man who she had never beenable to say no to. Attempting to hide the fact that she moonlights as an eroticromance author, she quickly finds herself in his arms and his bed, hoping he'llfulfill some of those deep, dark desires she has always written about but neverexperienced for herself.
Alex McDermott has spent the better part of a decade tryingto convince himself to stay away from the alluring Ashleigh, but when she movesback home, he finds he's no longer willing to resist the overwhelming desireshe inspires in him. But he's got a secret too-one that might just push Ashleighout of his life for good. And that's something he's not willing to let happen.It doesn't take long for the heat between them to ignite into a wildfire oflust, but can they stop hiding from each other and, more importantly, stopholding back?
Genres: