Serpentine Fire
Unabridged Audiobook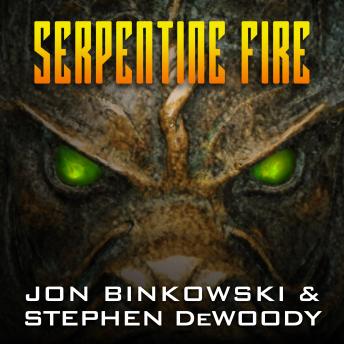 Duration:
11 hours 15 minutes
Summary:
They are the ultimate invasive species'"actual sea serpents, taking over the world's oceans. One small team of marine scientists stands against them.

"Jaws for the 21st century; a novel of terror at sea on an epic scale."



A devastating, globe-shaking earthquake hits California; but terrible as it is, it only sets the stage for the real disaster to come. Because at the bottom of the Pacific Ocean, a fissure opens and releases a life-form that has been locked away for countless millennia.



When the quake strikes: Marine biologist Charles Jacobs is lucky to survive as his beloved Monterey Aquarium collapses. In Oakland, NOAA scientist Felix Goodwin suddenly finds himself tapped by his Washington boss, millionaire industrialist Garrison Drummond, to head up Emergency Operations. And environmentalist Natalie DiBella, homeward bound on an airliner that narrowly avoids crashing, dreads that her family may not have been so lucky.



Months later, when Charles is brought to a top secret government facility to examine a huge, strange creature, it is like nothing the eminent scientist has ever seen before. As impossible as it seems, it is a sea serpent and it is not alone. Soon the oceans are swarming with them, in all shapes and sizes, but all with the same eerie jade eyes. Charles comes to realize that they are the ultimate invasive species; Natalie thinks they are a beautiful force of nature'"and the Machiavellian Drummond believes they have the potential for almost limitless power.
Genres: