Sexiest Vampire Alive
Unabridged Audiobook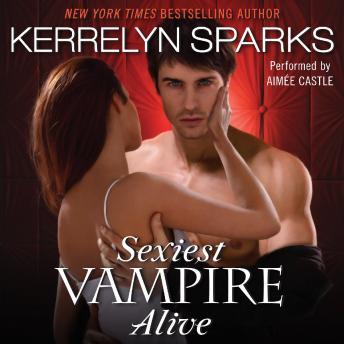 Duration:
10 hours 27 minutes
Summary:
The secret is out . . .Vampires do exist!

When a video reveals to the world thatvampires live among us, it's up to "young"vamp Gregori Holstein, VP of Marketing,to persuade the U.S. government todeclare the video a hoax. But firstthe president wants a favor, onethat requires Gregori to spendforty-eight hours in very closecontact with the First Daughter.

Abby Tucker would rather spend hernights in a lab than attend her father'sstate dinners. She's dedicated her lifeto finding a cure that will save her dyingmother and needs only two more ingredients.To find them, she'll have to venture into the most dangerous region of the world—with a vampire.Her Armani-clad escort may be Undead, but he stillmakes her heart race. And the greatest danger won'tbe the predatory hordes lying in wait for them; it willbe her undying desire for the Sexiest Vampire Alive.
Genres: