Share Me, Touch Me, Tie Me: One Night with Sole Regret Anthology
Unabridged Audiobook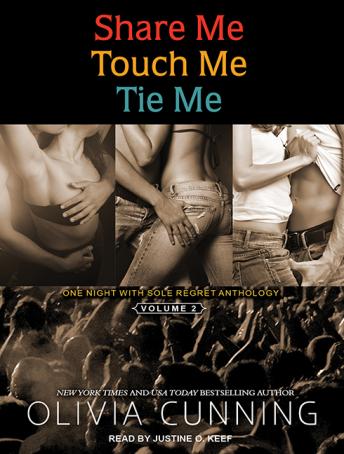 Duration:
15 hours 0 minutes
Summary:
For the five rock gods of Sole Regret, finding love is easy, keeping it is hard.
Share Me is a prequel to the series. Lindsey follows the Sole Regret tour bus up a dangerous and snowy mountain pass to meet the band and spends Christmas Eve getting to know musicians Owen and Kellen far better than she ever imagined.
In Touch Me, Sole Regret's bassist and playboy, Owen Mitchell, meets an older woman in a sex club. She's looking to forget her cheating ex-husband and Owen knows exactly what she needs to heal her tattered ego.
In Tie Me, Sole Regret's brokenhearted rhythm guitarist, Kellen Jamison, has mourned for his lost love for five lonely years. Can a beautiful classical music composer finally break through the wall around this rock star's heart?
Genres: