Sharpe's Escape: The Bussaco Campaign, 1810
Abridged Audiobook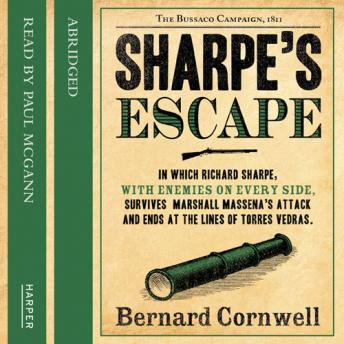 Duration:
3 hours 45 minutes
Summary:
A new instalment in the bestselling Sharpe series.


Paul McGann brings the drama and action alive.


Sharpe's Escape takes place in the summer of 1810, once again in the Peninsular War. The French are mounting their third and most dangerous invasion of Portugal. Captain Richard Sharpe with his company of redcoats and riflemen meets the invaders on the gaunt ridge of Bussaco. But there, despite a stunning British victory, the French are not stopped and the army have to fall back.


Sharpe has made enemies among the Portuguese and during the retreat through Coimbra, he and Sergeant Harper are lured into a trap designed to kill them. With the help of an Englishwoman, Sharpe survives, but is cut off from the army. He has to rejoin his regiment if the command is not to fall to the ambitious Lieutenant Slinbsby. At the Lines of Torres Vedras, the vast defences built to stop the French before Lisbon, Sharpe confronts his enemies in a climactic battle.


Soldier, hero, rogue – Sharpe is the man you always want on your side. Born in poverty, he joined the army to escape jail and climbed the ranks by sheer brutal courage. He knows no other family than the regiment of the 95th Rifles whose green jacket he proudly wears.
Genres: