Sharpe's Fury: The Battle of Barrosa, March 1811
Abridged Audiobook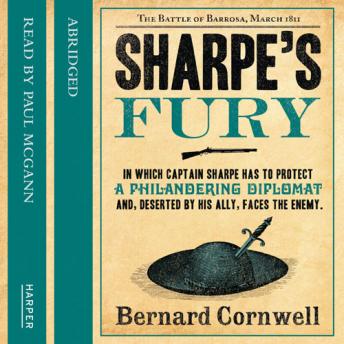 Duration:
5 hours 40 minutes
Summary:
The audiobook of the long-awaited twenty-first novel in the number one bestselling series featuring Richard Sharpe.


In the winter of 1811 the war seemed lost. All Spain has fallen to the French, except for Cadiz which is now the Spanish capital and is under siege. Wellington and his British army are in Portugal, waiting for spring to spark the war to life again.
Richard Sharpe and his company are part of a small expeditionary force sent to break a bridge across the River Guadiana. What begins as a brilliant piece of soldiering turns into disaster, thanks to the brutal savagery of the French Colonel Vandal who is leading his battalion to join the siege of Cadiz. Sharpe extricates a handful of men from the debacle and is driven south into the threatened city.


There, in Cadiz, he discovers more than one enemy. Many Spaniards doubt Britain's motives and believe their future would be brighter if they made peace with the French, and one of them, a baleful priest, secures a powerful weapon to break the British alliance. He will use a beautiful whore and the letters she received from a wealthy man. The priest will use blackmail, and Sharpe must defeat him in a sinister war of knife and treachery in the dark alleys of the city.


Yet the alliance will only survive if the French siege can be lifted. An allied army marches from the city to take on the more powerful French and, once again, a brilliant piece of soldiering turns to disaster, this time because the Spanish refuse to fight. A small British force is trapped by a French army, and the only hope now lies with the outnumbered redcoats who, on a hill beside the sea, refuse to admit defeat. And there, in the sweltering horror of Barossa, Sharpe finds Colonel Vandal again.


Sharpe's Fury is based on the real events of the winter of 1811 that led to the extraordinary victory of Barossa, the battle which saw the British capture the first French eagle of the Napoleonic Wars.
Genres: