Sherlock Holmes and the Ghosts of Bly
Unabridged Audiobook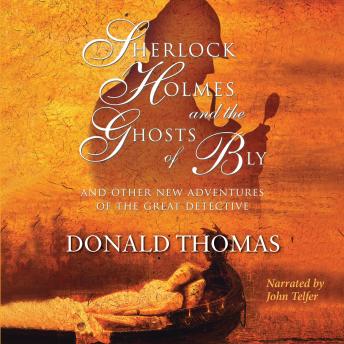 Duration:
10 hours 55 minutes
Summary:
'Have you ever seen a ghost, Mr. Holmes?' asks Victoria Temple, and Sherlock Holmes, at the height of his powers in 1898, must face a new challenge, one that plunges the great detective into the realm of the supernatural. Miss Temple has been found guilty-but also insane-at her trial for murdering a child under her care. She is locked away in the Broadmoor lunatic asylum, and worse still, she believes fully in her own guilt. But were the hauntings at the Elizabethan manor house of Bly a vision of the walking dead, perhaps, rather than delusions of her tormented mind? Or could it be that a criminal conspiracy is to blame for the psychic phenomena, as well as a second murder cunningly concealed in the past?

In the company of Dr. Watson, the indefatiguable Holmes will track down the perpetrators through the occult underworld of Victorian London.

Next, on the eve of World War I, Holmes is confronted with fraud and forgery at the Royal Naval Academy in 'The Case of a Boy's Honor.' While back in London, behind the scenes of the Herculaneum Theatre in the Strand, 'The Case of the Matinee Idol' embroils Holmes and Watson directly in an apparent onstage murder. How did poison get into two Shakespearean goblets when only the victim, now dead, had access to them and the most likely suspect was a mile away with an unthinkable alibi?
Genres: