Ship of Line
Unabridged Audiobook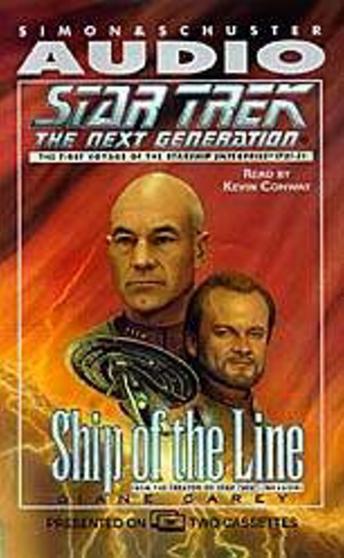 Duration:
2 hours 57 minutes
Summary:
The Starship Enterprise 1701-D has been destroyed, and Captain Jean-Luc Picard finds himself without a command. While waiting for his new ship, Captain Picard has gone with Lieutenant Worf on a delicate diplomatic mission to the Cardassian Empire.

As Picard conducts high-level negotiations for the return of Federation prisoners of war, the Starship Enterprise 1701-E is being constructed under the supervision of Captain Morgan Bateson, a veteran of the twenty-third century who spent nearly ninety years in a pocket universe. Commanding this new Enterprise on what was supposed to be a short shakedown cruise, Captain Bateson has an idea of his own. In defiance of Starfleet Command, he will take Starfleet's newest, strongest starship and strike at the heart of the newly aggressive Klingon Empire.

Captain Picard's negotiations proceed smoothly -- until he discovers that a hate-crazed Klingon commander -- Captain Bateson's archenemy from ninety years ago -- has taken the Enterprise from Bateson and launched a vicious attack on Cardassia Prime. To save the ship and preserve intergalactic peace, Picard must ally himself with his former Cardassian torturer, rely on the legendary skills of one Montgomery Scott, and draw new strength and inspiration from the memory of James T. Kirk...

Ship of the Line reveals an unforgettable lost chapter in the ongoing saga of Star Trek that will thrill readers of every generation.
Genres: