Shooter: The Autobiography of the Top-Ranked Marine Sniper
Unabridged Audiobook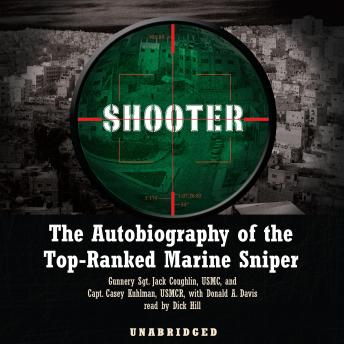 Duration:
9 hours 0 minutes
Summary:
With more than sixty confirmed kills, Gunnery Sergeant Jack Coughlin is the Marine Corps' top-ranked sniper, the man who personally brings America's military muscle to the enemy's front door. Shooter is his harrowing first-person account of a sniper's life on and off the modern battlefield.

At the age of nineteen, Coughlin joined the Marines and spent the next twenty years behind the scope of a long-range precision rifle as a sniper. In that time, he accumulated one of the most successful sniper records in the Corps, ranging through many of the world's hot spots. During Operation Iraqi Freedom alone, he recorded at least thirty-six kills, thirteen of them in a single twenty-four-hour period.

Now Coughlin has written a highly personal story about his deadly craft, taking listeners deep inside an invisible society that is off-limits to outsiders. This is not a heroic battlefield memoir but the careful study of an exceptional man who must keep his sanity while carrying forward one of the deadliest legacies in the US military today.
Genres: