Shyness, social anxiety and Relationship communication: Definitive guide to improve techiniques for master your emotion. Cognitive behavioral therapy, conversation skill and charisma
A free trial credit cannot be used on this title.
Unabridged Audiobook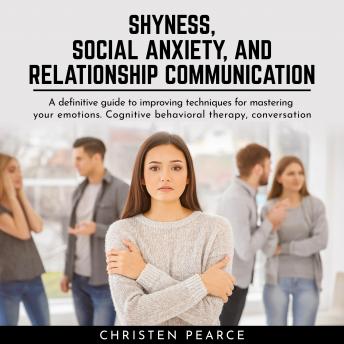 Duration:
14 hours 9 minutes
Summary:
Pull down that wall of shyness and social anxiety immediately by reading and implementing the steps found in this 4 -in-1 book titledShyness, Social Anxiety, and Relationship Communication. This is an audio guide book detailing practical solutions you can take in order to increase your social consciousness and self-confidence. It also offers advice on breaking free from every sort of fear and insecurity.

The first part of this book about shyness provides you with effective and proven techniques that are useful in overcoming panic attacks, fear, phobias and insecurities.

Section two highlights several conversational skills and other methods that will help boost self-confidence towards productive social participation. The knowledge revealed herein is guaranteed to propel you into new interactions and stronger relationships when you overcome shyness.

Relationship Communication, which is the third section in this book, provides you with immeasurable guidance on developing the art of conversing skillfully with people. You will learn how conflicts can be resolved amicably between you and your partner. Overcoming shyness in this instance, is the key.

The author writes with great conviction and experience coupled, with a deeply entrenched passion to help men and women struggling to overcome social anxiety and shyness.

This book is your sure ticket to break free from an unfulfilled social life, social anxiety, and the worst of all, shyness. Becoming a master over your emotions to conquershyness has never been easier.

A valuable addition to your library if you are yearning to gain the mastery over your emotions!
Genres: