Simplify Cancer: Man's Guide to Navigating the Everyday Reality of Cancer
Unabridged Audiobook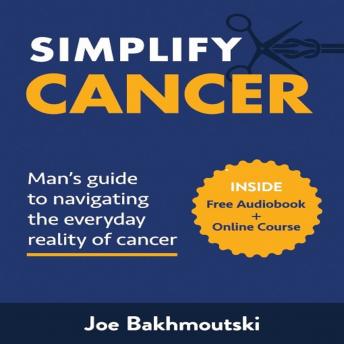 Duration:
2 hours 36 minutes
Summary:
The hardest thing for a man with cancer is losing control over your life. You get tangled up in a web of specialist appointments, medical tests and treatment decisions. And you don't want people around you to worry, or look like you can't handle it, or worse, feel sorry for you.
You stop trusting your body. It only takes a pain or ache and you think - is it cancer? Is it growing, has it spread? These worries they get to you because now you can't make plans and your entire future is shrouded in uncertainty.
But you can put a stop to cancer having a stranglehold over your life! In this book, Joe Bakhmoutski, using personal experience of overcoming cancer, shows how to build confidence around treatment so you know what to expect every step of the way, how to get the support you want from people in your life without coming off needy or weird, and how to divert the inevitable worry so you can have the life you deserve despite cancer.
In this book, you will learn how to:
- How to sideline worry during cancer
- How to make treatment decisions based on what is right for you and your life
- How to prepare yourself for treatment so you know what to expect, every step of the way
- Setting up the right structure around you during treatment to prepare for recovery
- How to get the support you want from people in your life, without drama or pity from others
- Dealing with uncertainty to have the best live you deserve despite cancer
Simplify Cancer sets you up to get through chemotherapy and other cancer treatment in the best way possible and having the best life you can despite cancer.
This is the manual that every man needs to take charge of their life during cancer.
Genres: