A Single Thread
Unabridged Audiobook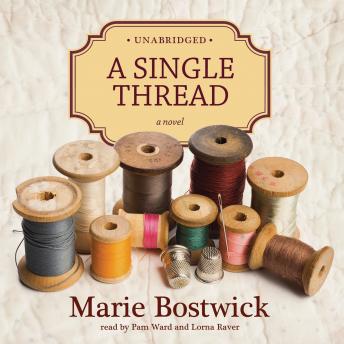 Duration:
12 hours 2 minutes
Summary:
Marie Bostwick weaves the unforgettable story of four very different women whose paths cross, changing their lives forever.

It's a long way from Fort Worth, Texas, to New Bern, Connecticut, yet it only takes a day in the charming Yankee town to make Evelyn Dixon realize she's found her new home. The abrupt end of her marriage was Evelyn's wake-up call to get busy chasing her dream of opening a quilt shop. Finding a storefront is easy enough; starting a new life isn't. Little does Evelyn imagine it will bring a trio like Abigail Burgess, her niece Liza, and Margot Matthews through her door.

Troubled and angry after her mother's death, Liza threatens to embarrass her aunt Abigail all over town unless she joins her for quilting classes. A victim of downsizing at the peak of her career, Margot hopes an event hosted by the quilt shop could be a great chance to network—and keep from dying of boredom.

As they stitch their unique creations, Evelyn, Abigail, Liza, and Margot form a sisterhood they never sought—but one that they'll be grateful for when the unexpected provides a poignant reminder of the single thread that binds us all.
Genres: