Singular Intimacies: Becoming a Doctor at Bellevue
Unabridged Audiobook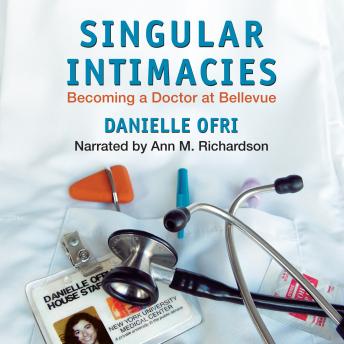 Duration:
9 hours 42 minutes
Summary:
A "finely gifted writer" shares "fifteen brilliantly written episodes covering the years from studenthood to the end of medical residency" (Oliver Sacks, MD, author of The Man Who Mistook His Wife for a Hat)

Singular Intimacies is the story of becoming a doctor by immersion at Bellevue Hospital, the oldest public hospital in the country—and perhaps the most legendary. It is both the classic inner-city hospital and a unique amalgam of history, insanity, beauty, and intellect. When Danielle Ofri enters these 250-year-old doors as a tentative medical student, she is immediately plunged into the teeming world of urban medicine: mysterious illnesses, life-and-death decisions, patients speaking any one of a dozen languages, and overworked interns devising creative strategies to cope with the feverish intensity of a big-city hospital.

Yet the emphasis of Singular Intimacies is not so much on the arduous hours in medical training (which certainly exist here), but on the evolution of an instinct for healing. In a hospital without the luxury of private physicians, where patients lack resources both financial and societal, where poverty and social strife are as much a part of the pathology as any microbe, it is the medical students and interns who are thrust into the searing intimacy that is the doctor-patient relationship. In each memorable chapter, Ofri's progress toward becoming an experienced healer introduces not just a patient in medical crisis, but a human being with an intricate and compelling history. Ofri learns to navigate the tangled vulnerabilities of doctor and patient—not to simply battle the disease.
Genres: