Six Great Scientists: Copernicus, Galileo, Newton, Darwin, Marie Curie, Einstein
Unabridged Audiobook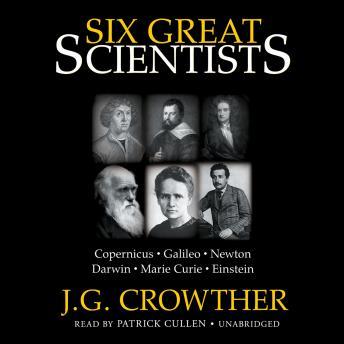 Duration:
8 hours 47 minutes
Summary:
Copernicus, Galileo, Newton, Darwin, Curie, Einstein: all of these geniuses had one thing in common. They had not only the imagination to conceive great ideas but also the integrity and determination to pursue and defend their science whatever the obstacles.
In spite of resistance and sometimes persecution by societies reluctant to let go of old views, these scientists persevered in their research and fought for the truths they discovered. While giving birth to the modern scientific outlook, the fact of evolution, the theory of relativity, or the secrets of atomic energy, they also struggled for the preservation of intellectual freedom and against the dangers inherent in the misuse of science.
Their stories will renew our confidence in the human spirit by reminding us of what men and women are capable of when they have the ability and courage to achieve great things.
Genres: