Size Matters Not: The Extraordinary Life and Career of Warwick Davis
Unabridged Audiobook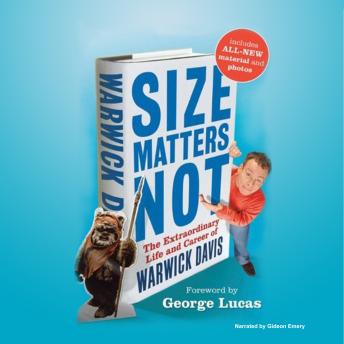 Duration:
8 hours 20 minutes
Summary:
The lifeand times of Warwick Davis, star of Ricky Gervais' sitcom, Life's Too Short
Actors worktheir entire careers hoping to achieve the kind of cult movie hero status thatDavis achieved at the age of eleven playing Wicket W. Warrick, the lead ewok inStar Wars: Return of the Jedi. Inthis lively and down-to-earth memoir, Davis offers personal stories on themaking of some of the most popular films of the last few decades-including theStar Wars, Harry Potter, and Leprechaun movie franchises, among many others-andshares the unique perspective of life as experienced by someone with aone-in-a-million genetic condition.
Here is thestory of the real life of the man who helped destroy a Death Star, saved aprincess, defeated an evil sorceress, taught magic to Harry Potter, became aJedi Master, and embodied a mass murdering, gold-obsessed leprechaun-the oneand only Warwick Davis.
WarwickDavis' honest look at the highs and lows of life as an actor and pop-cultureicon ranges from his screen debut in StarWars: Return of the Jedi to his starring role in Ricky Gervais' sitcom, Life's Too Short.
Includesbehind-the-scenes stories, from sweltering inside a furry Ewok costume andfilling in for R2-D2 to sliding down a glacier at Mach 2 with Val Kilmer andgetting kicked in the face by Ricky Gervais again and again. The book featuresa foreword by George Lucas, who has been friends with Davis for three decades.
Bothrefreshingly frank and highly entertaining, this book will help you see whatlife is like when it really is too short.
Genres: