The Skinnygirl Rules: For Getting and Staying Naturally Thin
Unabridged Audiobook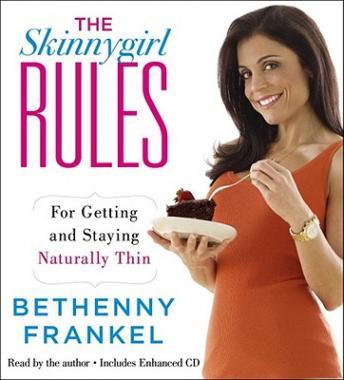 Duration:
3 hours 0 minutes
Summary:
Reality TV star Bethenny Frankel's audio companion to her New York Times bestseller, Naturally Thin.

In Naturally Thin, Bethenny Frankel shared her passion for enjoying natural, healthy, and delicious foods without the stress of counting calories, weekly weigh-ins, or deprivation. Now--available only on audio--Frankel presents The Skinnygirl Rules, sharing the tips and guidelines found in Naturally Thin using the same trademark wit and humor that made her the breakout star of The Real Housewives of New York City.

In The Skinnygirl Rules, Frankel focuses on how you can enjoy the pleasures of great food while also learning to balance your priorities. She teaches you that everyone can be naturally thin if they stop putting obstacles in their way. Bethenny's Skinnygirl Rules include:

• You can have it all, just not all at once
• Taste everything, eat nothing
• Cancel your membership to the Clean Plate Club
• Check yourself before you wreck yourself
• And much more!

With Frankel's help, you will learn to banish Heavy Habits, embrace Thin Thoughts, and enjoy the pleasure of great food without every worrying about dieting again.
Genres: