Slavery and Freedom in the Shenandoah Valley during the Civil War Era
Unabridged Audiobook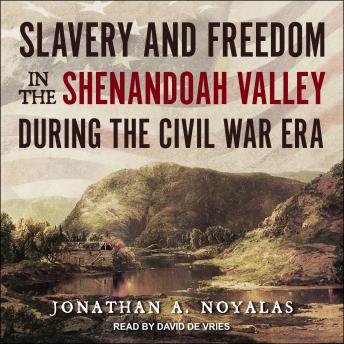 Duration:
7 hours 51 minutes
Summary:
This book examines the complexities of life for African Americans in Virginia's Shenandoah Valley from the antebellum period through Reconstruction. Although the Valley was a site of fierce conflicts during the Civil War and its military activity has been extensively studied, scholars have largely ignored the Black experience in the region until now.

Correcting previous assumptions that slavery was not important to the Valley, and that enslaved people were treated better there than in other parts of the South, Jonathan Noyalas demonstrates the strong hold of slavery in the region. He explains that during the war, enslaved and free African Americans navigated a borderland that changed hands frequently-where it was possible to be in Union territory one day, Confederate territory the next, and no-man's land another. He shows that the region's enslaved population resisted slavery and supported the Union war effort by serving as scouts, spies, and laborers, or by fleeing to enlist in regiments of the United States Colored Troops.
Noyalas draws on untapped primary resources to continue the story and reveal the challenges African Americans faced from former Confederates after the war. He traces their actions, which were shaped uniquely by the volatility of the struggle in this region, to ensure that the war's emancipationist legacy would survive.
Genres: