Sleep Meditation: Deep Sleep Hypnosis for Stress Relief, Relaxation, and Overcoming Anxiety, Fear & Worry
A free trial credit cannot be used on this title.
Unabridged Audiobook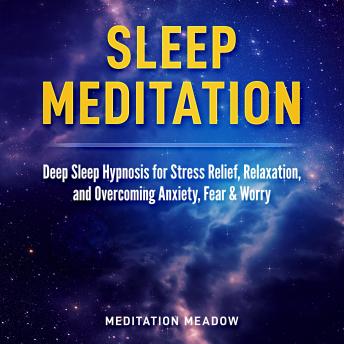 Duration:
0 hours 39 minutes
Summary:
With relaxing Sleep Meditation, relieving stress has never been easier.

Overcome fear, anxiety, and worry all from the comfort of your own bed with Meditation Meadow's Deep Sleep Hypnosis. Getting deep into your subconscious as you fall asleep, this carefully-crafted meditation alleviates stress and will leave you feeling relaxed and refreshed.

Don't let fear and worry haunt your nights, or stop you from sleeping at all – now you can put your fears to rest and enjoy lasting, quality sleep with Deep Sleep Hypnosis.

Our Sleep Meditation will help you:


- Relieve Stress As You Fall Asleep
- Overcome Anxiety and Drive Our Negative Thoughts
- Shift Your Focus Away From Fear or Worry
- Leave You Feeling Relaxed and Serene
- Let You Wake Up in The Morning Feeling Refreshed
- And So Much More

So don't let negative emotions haunt your dreams and follow you in waking life – overcome your stress and put your fears to rest with the incredible lasting benefits of our Deep Sleep Hypnosis. 25,000+ listeners can't be wrong – our Deep Sleep Hypnosis has a profound and lasting influence on your psyche, guaranteed to give you a good night's sleep.

Buy now to say goodbye to stress and anxiety tonight!
Genres: