Snap Out of it NOW! Four Steps to Inner Joy
Unabridged Audiobook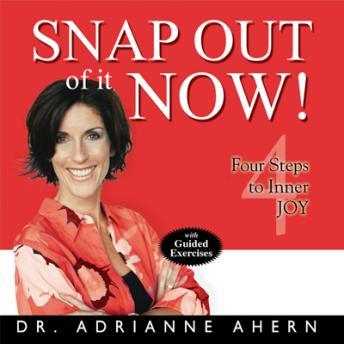 Duration:
6 hours 27 minutes
Summary:
Dr. Adrianne Ahern's powerful program can help you make a quantum leap to a life with purpose, joy, and excellence.Snap Out of It Now! is your guide to do-it-yourself fulfillment-whether you want more self-confidence, wealth, love, or just more fun!
Dr. Ahern's method is ideal for people who:

• Say yes to the wrong relationships
• Let stress cloud their judgment or block their career
• Let anger lead them down the wrong path
• Fail at diets
• Lose ability under performance pressure
• Believe they are not good enough, smart enough, rich enough, thin enough, or young enough

Snap Out of It Now! will show you how to end your negative thinking and find the keys to success with anything you want in life! 

This audiobook includes many Snap Out of it NOW! guided meditations and exercises.
Genres: