SOCIAL SKILLS: GUIDE TO IMPROVE YOUR RELATIONSHIP, CONNECT WITH PEOPLE AND WIN FRIENDS MANAGE SHYNESS, IMPROVE YOUR CONVERSATIONS AND DEVELOP YOUR CHARISMA WITH MIND CONTROL, NLP AND MANIPULATION.
A free trial credit cannot be used on this title.
Unabridged Audiobook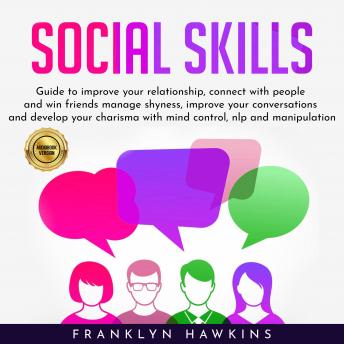 Duration:
10 hours 10 minutes
Summary:
Boost Your Social Skills With This 6-Step Technique And Impress Everyone With Your Irresistible Charisma!
Do you find it hard to make new friends because you hate small talk?

Are you single because you can't even approach people you like?

Do you get overlooked for promotions even though you work hard?

If you've answered at least ONE of these questions with 'yes', then stay tuned. You're going to learn some life-changing information right now.


Even if you didn't have a chance to learn social skills as a child, it's never too late to master them now.

You're not doomed to be shy. You're not doomed to be overlooked and ignored.

You can become a happy social butterfly, an exquisite seducer, or an excellent leader. You can become the best version of yourself and unleash the potential that no one notices now.

This book will help you improve your social skills and charisma with simple tips and exercises.

Here's a sneak peek of what you'll find in the book:
- A 4-point checklist that will improve any conversation
- A 6-step technique to improve your social skills FAST
- A guide to boosting your self-confidence with affirmations
- Parenting advice on cultivating children's social skills
- A complete guide to boosting your charisma
- And much, much more!


The social skills training you'll find in this book is designed to bring quick, easy results - you'll see an improvement in a matter of DAYS even if you've never been good at communication!


Are you ready to take your first step towards success?

Scroll up, click the 'Buy Now' button and Get Your Copy Now!
Genres: