Sophie's Choice
Abridged Audiobook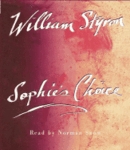 Duration:
2 hours 53 minutes
Summary:
Selected by the Modern Library as one of the 100 best novels of all time

'[One morning] in the early spring, I woke up with the remembrance of a girl I'd once known, Sophie. It was a very vivid half-dream, half-revelation, and all of a sudden I realized that hers was a story I had to tell.' That very day, William Styron began writing the first chapter of Sophie's Choice.
    First published in 1979, this complex and ambitious novel opens with Stingo, a young southerner, journeying north in 1947 to become a writer. It leads us into his intellectual and emotional entanglement with his neighbors in a Brooklyn rooming house: Nathan, a tortured, brilliant Jew, and his lover, Sophie, a beautiful Polish woman whose wrist bears the grim tattoo of a concentration camp...and whose past is strewn with death that she alone survived.
   'Sophie's Choice is a passionate, courageous book...a philosophical novel on the most important subject of the twentieth century,' said novelist and critic John Gardner in The New York Times Book Review. 'One of the reasons Styron succeeds so well in Sophie's Choice is that, like Shakespeare (I think the comparison is not too grand), Styron knows how to cut away from the darkness of his material, so that when he turns to it again it strikes with increasing force....Sophie's Choice is a thriller of the highest order, all the more thrilling for the fact that the dark, gloomy secrets we are unearthing one by one--sorting through lies and terrible misunderstandings like a hand groping for a golden nugget in a rattlesnake's nest--may be authentic secrets of history and our own human nature.'

The Modern Library has played a significant role in American cultural life for the better part of a century. The series was founded in 1917 by the publishers Boni and Liveright and eight years later acquired by Bennett Cerf and Donald Klopfer. It provided the foun-dation for their next publishing venture, Random House. The Modern Library has been a staple of the American book trade, providing readers with affordable hard-bound editions of important works of liter-ature and thought. For the Modern Library's seventy-fifth anniversary, Random House redesigned the series, restoring as its
emblem the running torchbearer created by Lucian Bernhard in 1925 and refurbishing jackets, bindings, and type, as well as inau-
gurating a new program of selecting titles. The Modern Library continues to provide the world's best books, at the best prices.
Genres: