Soul Sex
Unabridged Audiobook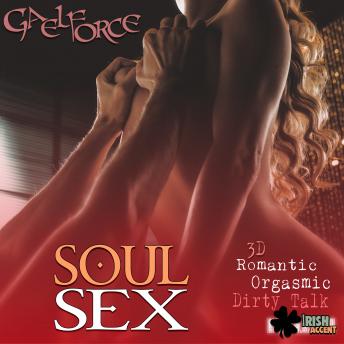 Duration:
4 hours 37 minutes
Summary:
This is a time for us. You. And I.
I am yours. You are mine.
Join me in the height of passion. Escape with me to an orgasmic & sensual sensory experience. Let me give you the attention you deserve. I want you to feel cherished, adored & desired.
Irish-born erotic author Gaelforce is well known for his warmth, humor, and intoxicating sensuality. Each track of creates unique personal sexual experiences that, wraps the listener in a cocoon of safety and pleasure. His passion is to bring confidence and healing to his listeners. No matter the scenario, you will feel safe and valued. Using immersive soundscapes and a revolutionary 3D microphone, let Gael entice you into his seductive world.
TRACK LIST
01 - Face To Face (15:48)
02 - Deep (27:19)
03 - Silk Finger Fantasy (20:41)
04 - Your Lover, Your Lion (32:08)
05 - Finding Your Sweet Sensuality (44:04)
06 - My Kinks: Your Arousal (20:57)
07 - Covering You (18:04)
08 - Midnight Snack (38:44)
09 - Stay (Please Don't Go) (37:36)
10 - Worth The Wait (20:43)
Genres:
1 of 1 people found this review helpful.