Soul Symphony of Yin Yang
Unabridged Audiobook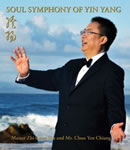 Duration:
0 hours 37 minutes
Summary:
#1 New York Times bestselling author of the Soul Power Series, Dr. Zhi Gang Sha offers listeners a musical treasure straight from the divine with Soul Symphony of Yin Yang .

Yin Yang is the first divine universal law. Everything can be described by yin and yang. Everything can be divided into yin and yang. Important yin-yang pairs include woman and man, the sun and the moon, night and day, Heaven and Earth, light and dark, body and soul.

The Soul Symphony of Yin Yang carries divine frequency and vibration, with divine love, forgiveness, compassion, and light that will help balance yin and yang within the soul, heart, mind, and body. This divine symphony can offer blessings of healing and rejuvenation. It can benefit listeners' health on all levels: physical, emotional, mental, and spiritual. It also can offer blessings to all that exists, including Mother Earth, all planets and all universes.
Genres: