A Southern Relics Cozy Collection: Paranormal Cozy Mysteries Books 1-3
Unabridged Audiobook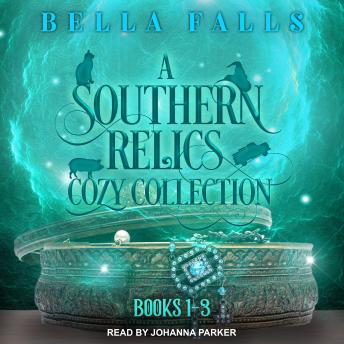 Duration:
18 hours 44 minutes
Summary:
A little sweet tea and a whole lot of spells won't always put out the fire . . .

Flea Market Magic: Book 1

Ruby Mae Jewell helps run the family business of selling antiques and refurbished goods. But when more research reveals a magical object's threatening nature to the magical community as well, she's put to the test of what to do . . . especially when they find someone murdered on their land who was looking for it.

Rags To Witches: Book 2

When one of Ruby Mae Jewell's friends gets stabbed at his own wedding reception, her abilities to solve the mystery go completely cold. There are a lot more questions than answers, and with more than the groom's life in the balance, Rue might need a lot of help to stitch things back together.

Pickups and Pirates: Book 3

After a hurricane attacks the Crystal Coast, Ruby Mae Jewell will have to deal with more than just the wreckage of harsh weather. When history of the notorious pirate Captain 'Bonny' Ann Bonnet catches up, murder and mystery soon follow. Rue discovers that the storm and the discovery of her ship right off the shores of her home area are no coincidence, and she must race to claim the cursed treasure before anyone else gets hurt.
Genres: