Speaking from Among the Bones: A Flavia de Luce Novel
Unabridged Audiobook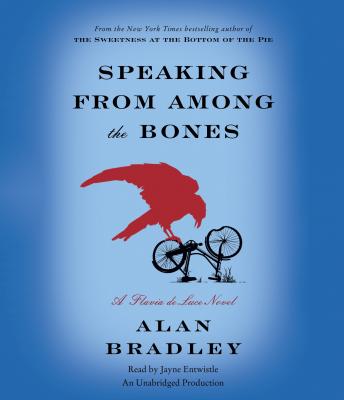 Duration:
10 hours 2 minutes
Summary:
NAMED ONE OF THE BEST BOOKS OF THE YEAR BY NPR • NEW YORK TIMES BESTSELLER

From award-winning author Alan Bradley comes the next cozy British mystery starring intrepid young sleuth Flavia de Luce, hailed by USA Today as "one of the most remarkable creations in recent literature."
 
Eleven-year-old amateur detective and ardent chemist Flavia de Luce is used to digging up clues, whether they're found among the potions in her laboratory or between the pages of her insufferable sisters' diaries. What she is not accustomed to is digging up bodies. Upon the five-hundredth anniversary of St. Tancred's death, the English hamlet of Bishop's Lacey is busily preparing to open its patron saint's tomb. Nobody is more excited to peek inside the crypt than Flavia, yet what she finds will halt the proceedings dead in their tracks: the body of Mr. Collicutt, the church organist, his face grotesquely and inexplicably masked. Who held a vendetta against Mr. Collicutt, and why would they hide him in such a sacred resting place? The irrepressible Flavia decides to find out. And what she unearths will prove there's never such thing as an open-and-shut case.

Acclaim for Speaking from Among the Bones
 
"[Alan] Bradley scores another success. . . . This series is a grown-up version of Nancy Drew, the Hardy Boys and all those mysteries you fell in love with as a child."—The San Diego Union-Tribune
 
"The precocious and irrepressible Flavia . . . continues to delight."—Publishers Weekly (starred review)
 
"Fiendishly brilliant . . . Bradley has created an utterly charming cast of characters . . . as quirky as any British mystery fan could hope for."—Bookreporter
 
"Delightful and entertaining."—San Jose Mercury News
 
Acclaim for Alan Bradley's beloved Flavia de Luce novels, winners of the Crime Writers' Association Debut Dagger Award, Barry Award, Agatha Award, Macavity Award, Dilys Winn Award, and Arthur Ellis Award
 
"Every Flavia de Luce novel is a reason to celebrate."—USA Today
 
"Delightful."—The Boston Globe, on The Sweetness at the Bottom of the Pie
 
"Utterly beguiling."—People (four stars), on The Weed That Strings the Hangman's Bag
 
"Irresistibly appealing."—The New York Times Book Review, on A Red Herring Without Mustard
Genres:
1 of 1 people found this review helpful.