Spell Like Hotcakes: A Widow's Bay Novel
Unabridged Audiobook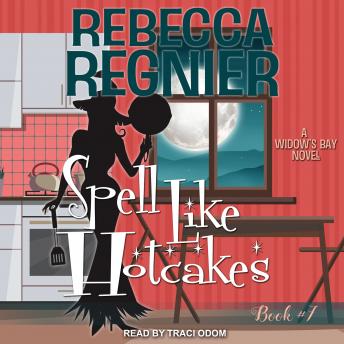 Duration:
6 hours 16 minutes
Summary:
Marzie Nowak, is forced to contend with several major dilemmas in Spell Like Hotcakes. The most vexing? She has to find a stylish mother of the groom dress! Luckily the latest dead body in Widow's Bay appears to have died of natural causes. But in this enchanted small town things are never as they seem. Not only does intrepid reporter, and hot flashing witch, Marzie Nowak, have a dead body to investigate, she's also trying to cover traffic reports aloft, on her broom. That ends with a bang and nearly ends with a witch splat!

Amidst the chaos Widow's Bay is home to its first-ever bake off. To make matters more hectic, Marzie's son announces he's about to get married to a complete stranger. Local delicacies are flying off the shelves while Marzie's new enemies are flying off the handle in every direction. She'll have to stop a vampire attack, intercept cheating at the bake off competition, and somehow find a mother of the groom dress that doesn't make her look like her three-hundred-year-old aunt. Marzie will need to deploy every magical skill she's acquired to keep her town on track, a killer from striking again, and her potential daughter in law from bringing down a curse on the entire clan.

An untimely death, a high stakes baking competition, and evil inlaws clash during one hot Northern Michigan summer.
Genres: