Spin: The Rumpelstiltskin Musical
Unabridged Audiobook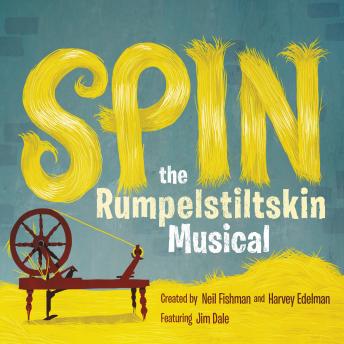 Duration:
1 hours 27 minutes
Summary:
2019 Audie Winner – Best Original Work

2018 SOVAS Voice Arts Award – Best Voiceover in Children's Audiobook

2018 SOVAS Voice Arts Award – Outstanding Production in Audiobook

2018 Parents Choice Award – Silver Honor for Audiobook

SPIN - THE AUDIOBOOK MUSICAL: A witty musical re-imagining of Grimm's fairy tale, Rumpelstiltskin, created by musical theatre veterans, narrated by Jim Dale, and featuring a cast of Broadway musical stars. The story takes place in a Nice Little Kingdom, and ignites when a foolish miller brags that his daughter, Jane, can spin straw into gold.  Since she cannot perform such a miracle, Jane desperately enlists the powers of a magical being…Rumpelstiltskin… in exchange for a promise with dire consequences. A fun, fractured fairy tale for the entire family.

Cast: Jim Dale, Barrett Leddy, Lisa Livesay, Nicola Barber, Khristine Hvam, Nick Sullivan, John Brady, Johnny Heller Produced by Hvam Audio and Sammy Smile Music; Music Composed, Orchestrated, and Produced by Neil Fishman; Book and Lyrics by Harvey Edelman; Adapted for the Audiobook by David B. Coe and Harvey Edelman; Directed by Khristine Hvam; Musical Direction by Neil Fishman; Recorded, Engineered and Mixed by Charles De Montebello at CDM Studios; Percussion Programming by Sam Fishman.
Genres: