Spinechillers Vol. 1 - Doug Bradley's Classic Horror Audio Books
Unabridged Audiobook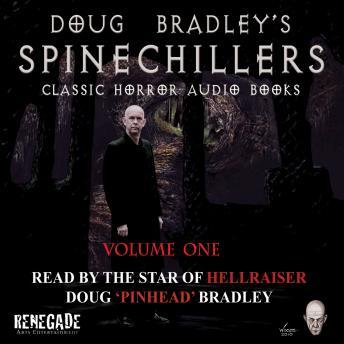 Duration:
2 hours 37 minutes
Summary:
Volume One introduces classic stories from the original masters of horror, including Edgar Allan Poe, HP Lovecraft and Charles Dickens. Read by horror icon Doug Bradley with music and sound design by Alistair Lock.

This volume features William F Harvey's original undead hand story 'The Beast with Five Fingers' that sparked many movies including Sam Raimi's 'The Evil Dead'.
Poe's classic 'The Tell Tale Heart' is joined by Lovecraft's creepy tale of alienation, 'The Outsider', and a chilling Dickens ghost story 'The Signalman'.

Harvey's other story, 'August Heat', asks a chilling question about a man's fate, and Saki offers something different with a tale of dead hunters returned from their marshy graves in 'The Open Window'.

This audio book collection presents the greatest works by a cross section of the most influential writers in the genre. Doug's dramatic readings are enhanced with sound design and music to really place the listener in the story.
Genres: