Standing Tall: A Memoir of Tragedy and Triumph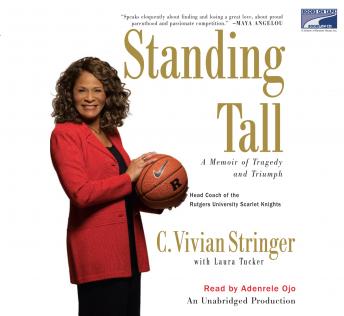 Duration:
10 hours 17 minutes
Summary:
"Work hard, and don't look for excuses," C. Vivian Stringer's parents told her, "and you can achieve anything." But her faith and perseverance would be tested many times. A gifted athlete, she had to fight for a place on an all-white cheerleading squad in the sixties. In 1981, just as her coaching career was taking off, her fourteen-month-old daughter, Nina, was stricken with spinal meningitis. Nina would never walk or talk again. Still grieving, Stringer brought a small, poor, historically black college to the national championships–a triumph hailed as "Hoosiers with an all-female cast." In 1991, her husband, Bill, fell dead of a sudden heart attack, but that same year, she led yet another young team to the Final Four. Through these dark times and others, Stringer has carried her burdens with grace. Given her history, it was no surprise that she led her team to respond to Don Imus's slurs with dignity and courage.

STANDING TALL is a story of quiet strength in the face of punishing odds. Above all, it is an extraordinary love story–love for the game, for the players she has coached, for her close-knit family, and for the husband she lost far too soon. It will resonate long after the last word.
Genres: