Star Trek: Spock Vs Q: The Sequel: The Sequel
Abridged Audiobook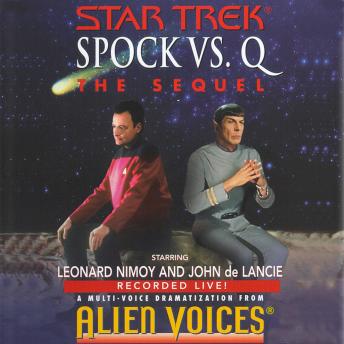 Duration:
1 hours 0 minutes
Summary:
THE BATTLE OF WITS AND LOGIC IS JOINED AGAIN!

STAR TREK®

SPOCK VS. Q

THE SEQUEL

AN ALIEN VOICES® PRODUCTION

STARRING LEONARD NIMOY AND JOHN de LANCIE

Written by Cecelia Fannon

Following their debate over the fate of mankind, Spock and Q have continued their discussions over a meal. After dining, the two return to the stage to recount their repast, which included encounters with several of Spock's former shipmates.

However, at the moment the two verbal sparring partners shake hands, a power surge places them in total darkness. Suddenly, Spock and Q are no longer on stage, but somewhere in deep space.

As they struggle to determine what has happened, a curious personality change takes hold. Spock is overcome with giddy delight. Q is much more serious, even...logical.

Masterfully performed by Leonard Nimoy and John de Lancie, Star Trek® Spock vs. Q: The Sequel is a fascinating and often hilarious role reversal that reveals previously unknown sides of Spock and Q. It is a program so original it could only come from Alien Voices®.
Genres: