Starting Strength: The Ultimate Guide To Functional Strength
Unabridged Audiobook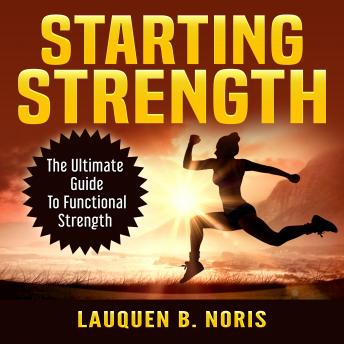 Duration:
0 hours 24 minutes
Summary:
Do you want to improve your functional strength?
Do you want to learn the 7 primal movements that will increase it beyond your expectations?
This guide will improve your functional strength quickly and seamlessly!
Functional strength is the strength that we are born with that is designed to help us survive each day. Going back as far into history as we can, it could literally mean the difference between life and death if you didn't possess enough strength and it was central to our continuation as a species.
In this audiobook, Starting Strength: The Ultimate Guide To Functional Strength, we examine the core principles that will help you to build on and maximize your functional strength, with chapters that provide:
- What is Functional Strength?
- The 7 Primal Movements
- Relax Into Stretch & Foam Falling
- Functional Strength Training Tools: Kettlebells, Indian Clubs and More
With the training methods and movements that are included inside these pages, you could increase your functional strength in less time than it would normally take if you simply went to the gym for a workout.
Download a copy now and start to improve your functional strength today!
Genres: