Steele My Heart
Unabridged Audiobook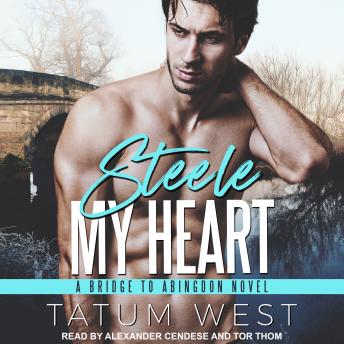 Duration:
6 hours 28 minutes
Summary:
Gil: I was tired of working the police beat in Northern Cali. Exhausted-my whole body was yearning for a place I hadn't been in years, my old home. When my mama died, I knew I had to come back, and a pay bump and new job as police chief sealed the deal.

I got away from heartbreak. From being so tired. From the constant, never-ending world of crime I'd come to know.
In Abingdon, I can relax, see all my old friends from Jackson Academy. Maybe I can even change this place a little, make it better for all the kids like me. The ones who were different, who always needed a place a little bigger and broader than a small mountain town could provide.

I always promised myself I wouldn't come back. But Kendall Vincent-he might just get me to stay for good. When I'm in his arms, I feel complete, whole again, like a man reborn to the world.

Everything seems perfect, right up until the moment that it's not. When two gay kids get hurt bad by a gang of thugs, I realize that Abingdon needs me far more than I thought. And I'm here to protect the town-and the man-that I'm growing to love.

Contains mature themes.
Genres:
1 of 1 people found this review helpful.

1 of 1 people found this review helpful.

1 of 1 people found this review helpful.