Steve's New Neighbors: The Wither Skeleton King (Book 4): Finding a Cure (An Unofficial Minecraft Diary Book for Kids Ages 9 - 12 (Preteen)
Unabridged Audiobook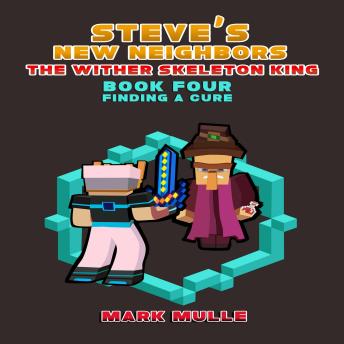 Duration:
1 hours 2 minutes
Summary:
GENRE: Children's Adventure
(An Unofficial Minecraft Diary Book for Kids Ages 9 - 12 (Preteen)
Steve, Alex, and Larry return in the continuation of their battle against the South Meadow Zombies. The only problem is, that they now know that the army is not being led by zombies, but an evil wither skeleton.
As they set about the task of repairing the village from the destruction that resulted in the final battle, they begin to realize that they have a lot of work left ahead of them. Strange things have been happening in the Overworld, and they will soon discover that even stranger things are occurring in the Nether. Travel with them as they seek answers, try to save the village, and journey into the Nether in search of the mysterious Blaze. Can they return home safely? Or, will the dangers that await them through the portal be enough to make them realize that the war is not over. It has only just begun.
Other books in this exciting Minecraft series
Book 1: Steveville
Book 2: Fighters in Training
Book 3: South Meadow Zombie Clan
Book 5: To the Rescue
Book 6: One Last Battle
This unofficial Minecraft book is not authorized, endorsed or sponsored by Microsoft Corp., Mojang AB, Notch Development AB or any other person or entity owning or controlling the rights of the Minecraft name, trademark or copyrights. All characters, names, places and other aspects of the game described herein are trademarked and owned by their respective owners. Minecraft®/ /TM & ©2009-2016 Mojang/Notch.
Genres: