Stop Adult Bedwetting and Incontinence
A free trial credit cannot be used on this title.
Unabridged Audiobook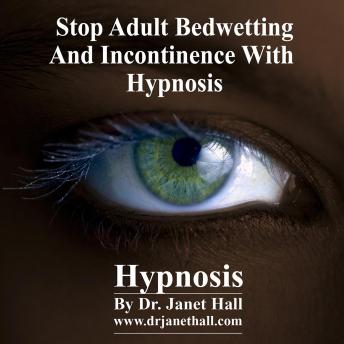 Duration:
0 hours 13 minutes
Summary:
Are you embarrassed because you wet the bed? Are you ready for a great night's sleep with the comfort of knowing you will wake up in a dry bed in the morning? Imagine going to bed with confidence! Hypnotherapy can help!

Dr Jan has worked with children and adults with wetting problems for over 30 years. She wrote the book for children - Stop Bedwetting (How To Be Boss of the Bladder), a best seller selling over 20,000 copies in Australia alone. Dr Jan's Hypnosis will teach your brain how to tune in to any sensations of needing to go to the toilet, even when you are asleep.

Suggestions include:

Relax and let yourself know that your mind is now absolutely tuning in to the bladder and allowing the messages from the bladder to wake up the brain and take you to the toilet, return to bed and drift off to sleep again, yet always with one part of your sleeping brain, alert and hyper-vigilant to the message that the bladder may need wake you.
Feel secure, knowing that when you drift off to sleep each night, with your determination, you can trust that the bladder and the brain will have the ability to coordinate and communicate messages.
Be persistent - keep listening and you will succeed! So, if you're serious about wanting to be in control of your bladder at all times, especially at night, then you need to get a copy of Stop Adult Bedwetting And Incontinence With Hypnosis right now! This is one of a series of hypnosis audios presented by Dr Janet Hall called:'How To Get Sensational Results With Dr Janet Hall's Hypnosis'.

Dr Janet Hall is a Clinical Psychologist, hypnotherapist, author, speaker and media consultant. Dr Jan authored eight books on family and relationships and recorded over 55 audio-recordings, many of them including hypnotic material. She founded Richmond Hill Psychology inMelbourne, Australia.
Genres: