Stop Fear of Surgery Now: Rapid Recovery from Surgery
A free trial credit cannot be used on this title.
Unabridged Audiobook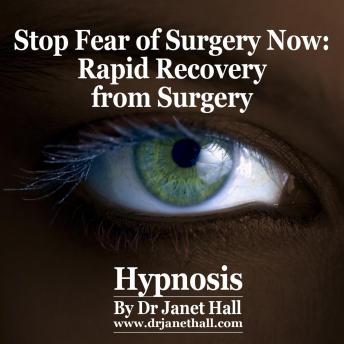 Duration:
0 hours 16 minutes
Summary:
Do you have to have an operation? Scared? Have you had past anaesthetic in hospital that made you vomit for hours? Hypnotherapy can help you.

Dr. Janet Hall, clinical psychologist, hypnotherapist and author of 8 books and over 50 audio-recordings now reveals How to Stop Fear of Surgery Now: Rapid Recovery From Surgery.

Dr. Jan's How to Stop Fear of Surgery Now: Rapid Recovery From Surgery hypnosis audio is the result of many years of success with clients. Dr. Jan sees people on a one-to-one basis and has had a lot of success in dealing with those who need to overcome their fear of surgery and program themselves to have rapid recovery from surgery. This recording comes from Dr. Jan's clinical success with helping clients recover rapidly from surgery. The concept that self-hypnosis training can help reduce the anxiety associated with surgery probably makes sense to you. Self-hypnosis can also help surgery go more smoothly and actually accelerate physical healing itself! You will probably find that your anxiety about the surgery is reduced and that you are learning to control your internal state and give yourself soothing positive suggestions.

Here's what Lucille said: After my hysterectomy, the doctor was amazed that I wanted to go home after three days. He recommended that the normal stay was seven days. He was astounded to learn that the reason that I believed that I had made a rapid recovery was that I had listened to Dr. Jan's hypnotic recording before and after the operation and programmed myself to a serene and successful operation and problem-free recovery. Dr. Jan's Rapid Recovery from Surgery hypnosis recording may help you speed up your recovery rates.

Sit back and relax as the recording works with you to soothe your mind and encourage healing, helping you: Stay calm and expect the surgery will go smoothly without any drama. Accelerate the natural recovery process with no vomiting reaction to the anaesthetic. Receive maximum benefit from your surgery. Get back to normal quickly.

So, if you're serious about wanting fear-free surgery with rapid recovery, then you need to get Dr. Jan's hypnosis recording, Stop Fear Of Surgery Now: Rapid Recovery From Surgery With Hypnosis right now.

Dr Janet Hall is a Clinical Psychologist, hypnotherapist, author, speaker and media consultant. Dr. Jan authored eight books on family and relationships and recorded over 50 audio-recordings, many of them including hypnotic material. She founded Richmond Hill Psychology in Melbourne, Australia.
Genres: