Stop Procrastinating: Learn How to Overcome Laziness and Psychology of Motivation, Find happiness and Change Everything
A free trial credit cannot be used on this title.
Unabridged Audiobook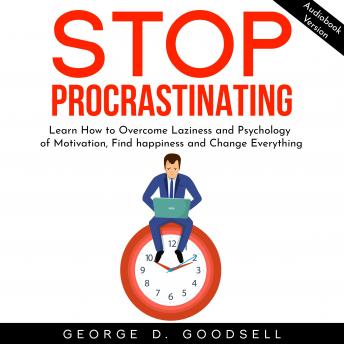 Duration:
3 hours 27 minutes
Summary:
Effectively Stop Procrastination In Its Tracks And Achieve Your Goals… On Time!What most people don't know is that procrastination is a self-regulation issue. This means that some people become so overwhelmed with the possibility of doing (and failing) at certain tasks, that they simply opt to not do them at all… until, of course, the deadline starts to loom over them!

This, in turn, creates more anxiety and more feelings of overwhelm because they no longer have enough time to do the tasks well… so they end up with a mediocre output.

And if you have dreams to pursue, this isn't the way to go!

In this book, you will learn:
- All the reasons WHY you prосrаѕtinаtе
- How procrastinating can ruin your life and derail your dreams
- What your procrastination style is so you can stop it
- The ONE POWERFUL TOOL TO STOP PROCRASTINATING
- The 14 LIES PROCRASTINATORS LIKЕ TО TELL
- The 11 PROVEN WАУЅ TО PREVENT PROCRASTINATION
- How you can PROCRASTINATE BETTER
- And much more!

Procrastination isn't a terminal illness! The sooner you get this book, the better your chances of taking back control of your life and getting back on track toward your dreams.

Scroll up and Click on "Buy Now" today!
Genres: