Storm World: Hurricanes, Politics, and the Battle Over Global Warming
Unabridged Audiobook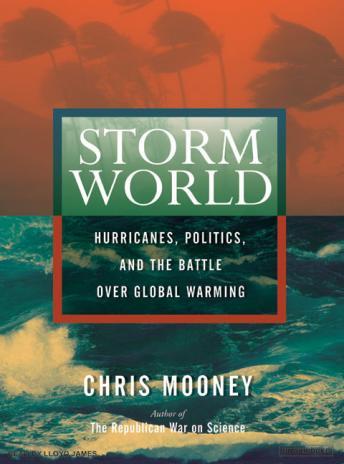 Duration:
10 hours 30 minutes
Summary:
Chris Mooney, author of The Republican War on Science and one of the leading young environmental journalists and bloggers working today, immerses readers in the world of those who study hurricanes. What was once an arcane branch of meteorology (itself an arcane science) has become embroiled in one of the most politicized and hotly contested debates in American science: whether or not the recent hurricane disasters-culminating in Katrina-are connected to global warming.

Mooney follows the lives and careers of the two leading scientists who stand, bitterly opposed, on either side of the issue. One believes that global warming has nothing to do with hurricane ferocity or frequency; the other believes as fervently that it does; both have staked their reputations on their respective positions. Mooney shows these two men in action as they debate the issue across the country and are followed by the media. He also uses them as a way of showing how hurricane studies have evolved and how government, the media, Big Business, and politics have affected the ways we study and interpret weather patterns. Hurricanes are natural disasters, capable of inflicting almost unimaginable destruction. The culture that has grown up around predicting, charting, and even defining them is very much man-made.

Combining lively portraits of the leading figures, vivid science journalism, and the very latest reportage from the weather front (the last section of the book will cover the 2006 hurricane season), Mooney-a native of New Orleans-has written what will surely be one of the most talked-about books of the year.
Genres: