Storming Las Vegas: How a Cuban-Born, Soviet-Trained Commando Took Down the Strip to the Tune of Five World-Class Hotels, Three Armored Cars, and Millions of Dollars
Unabridged Audiobook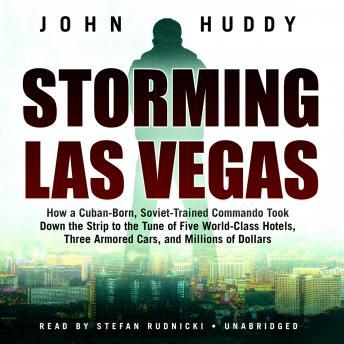 Duration:
13 hours 17 minutes
Summary:
Immediately gripping and thoroughly harrowing, Storming Las Vegas tells the story of a remarkable true-life crime spree-a story that was previously squashed so as not to disturb tourism-that ultimately proves the saying "what happens in Vegas stays in Vegas."
On September 20, 1998, a Cuban-born former Red Army lieutenant named Jose Vigoa launched a series of raids on the Las Vegas Strip. During a sixteen-month spree, Vigoa hit five world-class hotels, three armored cars, and one department store. The MGM, the Desert Inn, New York, New York, Mandalay Bay, and the Bellagio were the casinos involved.
Lieutenant John Alamshaw, a twenty-three-year veteran in charge of robbery detectives, was ordered to stop the robberies at all costs. He knew he was up against a mastermind-what he didn't know was that he was running out of time.
Genres: